Tim Hortons
Establishment, food and cafe at 975 McKeown Avenue, North Bay, ON P1B 9P2, Canada. Here you will find detailed information about Tim Hortons: address, phone, fax, opening hours, customer reviews, photos, directions and more.
Opening hours
| | |
| --- | --- |
| Sunday | 12:00am — 11:59pm |
| Monday | 12:00am — 11:59pm |
| Tuesday | 12:00am — 11:59pm |
| Wednesday | 12:00am — 11:59pm |
| Thursday | 12:00am — 11:59pm |
| Friday | 12:00am — 11:59pm |
| Saturday | 12:00am — 11:59pm |
Rating
2 /5
Based on 5 reviews
Photos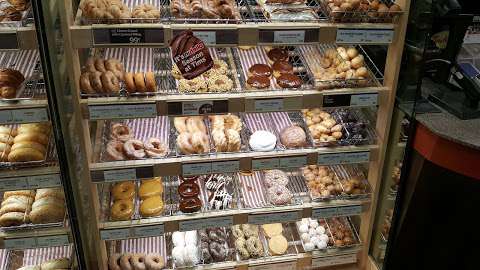 Reviews of Tim Hortons
Brendan Wood Added 2018-10-22

★ ★ ★ ★ ☆

Gotta go early if you want those potato wedges. Don't worry though, even if you can't always get what you want, the staff takes the edge away from disappointment.

Alexander McKenna Added 2018-10-15

★ ★ ★ ☆ ☆

The fastest crew I know (mornings). You can enter the longest line up backed to the road and they turn that drive through over in 2 mins. In and out boom and done. This [morning crew] place should be Training every Tim Horton's in Ontario. I really cant say enough about that.

Edit: June 18th 2018 my previous 5 star review was perfect for the morning crew, but really does not represent well the lunch crew. The lunch crew should be very fast as well and I believe most of them are in training. I understand that everybody needs to be trained but they should have some people who can help move things along fast. I say this because most people have a lunch hour of about 1 hour or 30 minutes. So to spend about 10 minutes or 15 minutes through the drive-thru only to get a single coffee is little ridiculous

Raven St.Michel Added 2018-09-13

★ ☆ ☆ ☆ ☆

Well it's Timmys..what can you say..i actually don't find their coffee good but many people do.Check your items before you leave the drive thru..mistakes happen often

Today it happened again..
Didnt double toast the english muffins for the breakfast sandwich..then to boot lol they mixed up the order and put a biscuit and an english muffin together on one sandwich..
This place just gets worse and worse

I did call the manager who was very nice and very apologetic...she did fix the order for next time

christuna squire Added 2018-09-04

★ ☆ ☆ ☆ ☆

Bad staff poor customer service slow wait times, drive through is more important than the 30 people they have waiting in line in the store, almost everytime I'm at that specific timmies I get some part of my order wrong officially sick of it.

Joe Smith Added 2018-08-14

★ ☆ ☆ ☆ ☆

do something about the gross people hanging out on the sidewalk. it isn't safe to have big crowds just sitting/standing around on their bikes, no room to comfortably walk by unless you want to breath their sweat and smoke. even then nobody moves for people to get by. i don't understand how nothing is ever done about this. no less than 2 bikes blocking the whole sidewalk at all times. disgusting garbage everywhere for 2 or three blocks in all directions.